Welcome to Precimet: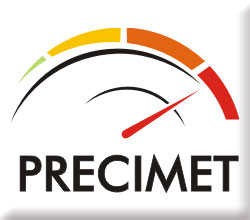 PRECIMET is an industrial instrumentation products' brand of Blue Waters company, based in India's financial capital, Mumbai.
As manufacturer and exporter of Pressure, Temperature gauges and its accessories, Precimet focuses on establishing long-term relations with customers, business partners and suppliers. All our business relations are based on mutual confidence, clear rules of cooperation and flexibility in understanding mutual needs.

Customers' needs are our priority. It is very important for us that our customers are satisfied with the business undertaking and our product offering. The quality of customers' service, fulfilling their expectations, mutual agreement concerning the needs and possibilities, carrying out the order, after-sales service – these are the most important elements of broadly defined culture and organization in our company. We share our knowledge and experience with our partners to guarantee full mutual satisfaction.

Our products are characterized with a long period of use, hence their quality and reliability are crucial for us. An equally important element of our activity is the operability and operating environment of our products. We ensure appropriate technical and service base to quickly and efficiently address user operating issues.
We put a lot of time and effort into guaranteeing the safety of our products. All gauges and accessories manufactured by us are designed pursuant to current directives and harmonised standards. We constantly cooperate with accredited research laboratories where we check and test those products in which cases the safety is a crucial factor.

Dharmesh Gandhi
CEO
---
Important Information about Precimet Products:
Standards: Precimet range of Pressure Gauges, Temperature Gauges and accessories are made to order with all standard pressure / temperature ranges and connections. Our forté in the engineering department makes us a preferred manufacturer for all high quality equipment requirement. There is a good repeatability and longevity in all our products. Precimet standard pressure gauges are designed for long and reliable service under rugged conditions. Some typical applications are for pumps, hydraulics and pneumatic systems, compressors and for any other applications.
Scales: We offer single and dual scale ranges in psi, kpa, Mpa, bar, mbar, kg/cm2, etc.
Connection: Threaded connections as mentioned against each gauge is a standard. Beyond that we can manufacture specific connections like Female ½"NPT, 9/16 UNF, or as per your design for bulk manufacture.
Dial Size: Dial Sizes per gauge is a standard. For any other size, we manufacture as per your design by making die for the case and bezel for large orders.
NACE Compliance: We offer NACE compliant gauges for select models on request
Calibration Certificate: We provide calibration certificates for all gauges on request.